Dear Visitor,
Welcome to the TaSHI website.  On this website we provide detailed information, qualitative and quantitative data, and evidence-base for the project entitled "Empowering EU health policies on Task SHIfting". The 3-year long project – started in April 2021 – is co-funded by the 3rd Health Programme of the EU, therefore our activities aim to produce a novel understanding and up-to-date knowledge on task shifting, as well as to foster dialogues on transferability and uptake of good practices in Europe. Task shifting can contribute to more effective organisation of care and human resources for health management at different levels, so committing to improve efficient and sustainable health systems in innovative ways.
We invite you to actively participate in the discussions on useful tools and methods in task shifting, so that we can all contribute to the co-creation for more efficient, accessible, and resilient health systems and workforces in Europe.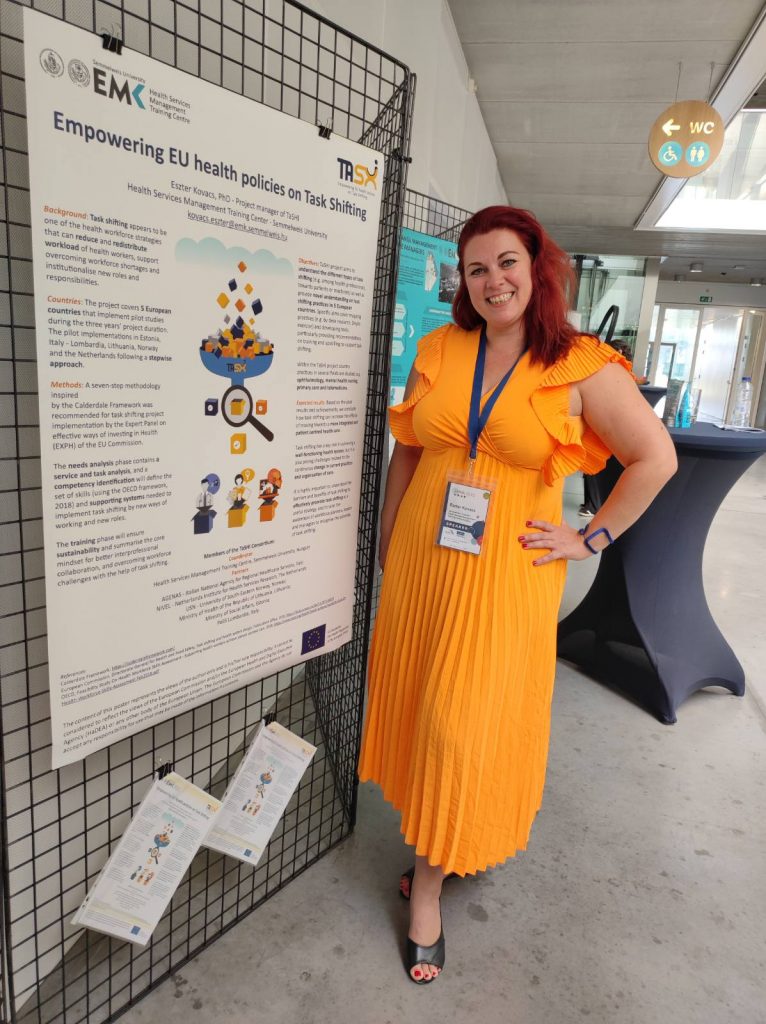 Eszter Kovács project manager of TaSHI presenting our poster at EHMA2022.
Knowledge, skills & competency required for taskshifting presented by Vibeke Sundling (USN).
In her presentation Vibeke explored the required content of a curriculum in task shifting including well-structured concepts, guidelines & supporting tools.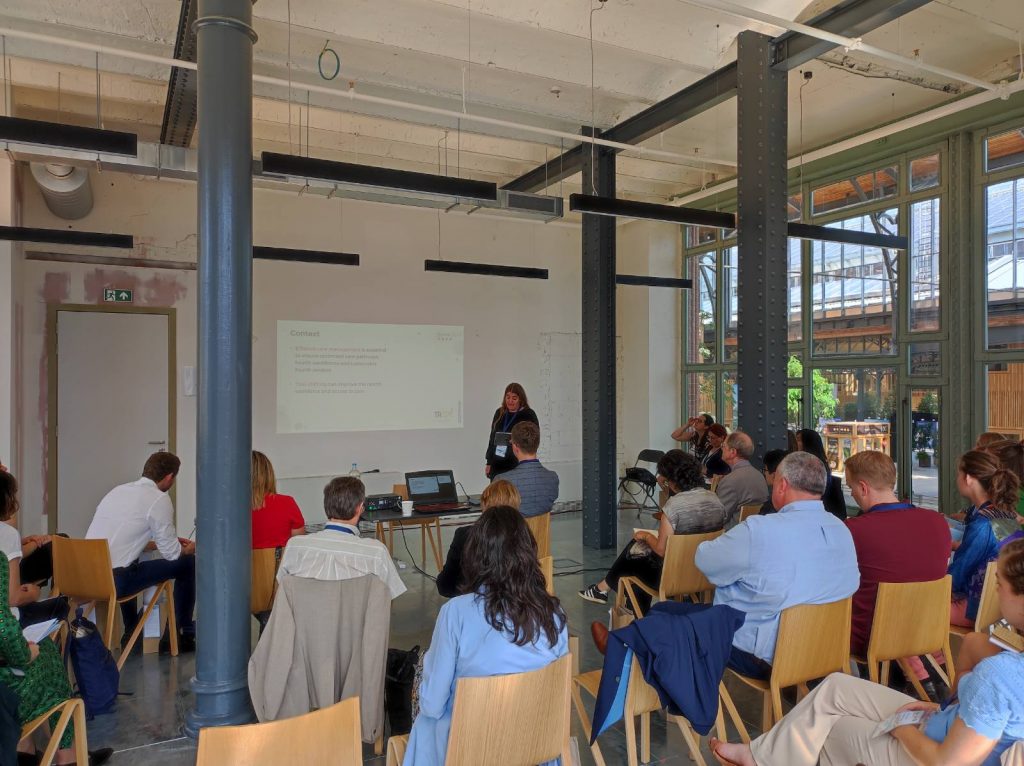 The TaSHI Advisory Board is going to meet again on the 6th of June 2022.
The main focus of the Advisory Board meetings is always to analyse and look deeper into the current activities and results of the TaSHI project and to have a fruitful exchange with the experts of the Board.
This time we are looking forward to an interesting discussion again.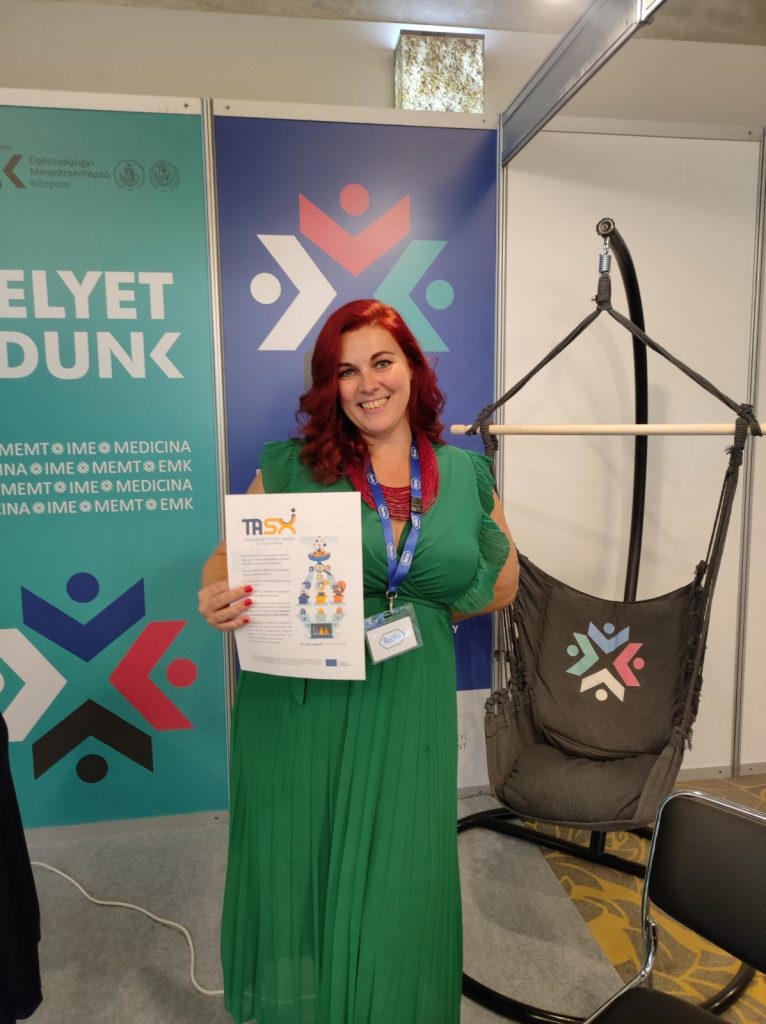 On the 2 June 2022 Eszter Kovács project manager presented a comprehensive summary on "Task shifting practices particularly after COVID", in the annual conference of the Hungarian Hospital Association.
TaSHI project was introduced to the numerous participants of the event.
We are happy to announce that the TaSHI deliverable: Collection of useful tools and practices in task shifting has been published.  This report presents the results of an explorative study on the need for curriculum development in task shifting by the TaSHI project. The document provides an overview of existing good practices using a mixed-methods approach, including desk research of evidence in the scientific literature and findings of EU projects, a Delphi exercise and stakeholder interviews.
Duration of TaSHI: 36 months. From
1 April 2021 until 31 March 2024
TaSHI involves 7 partners in 6 countries
The estimated project costs are:
 € 649 448,27
EU contribution is: 60%
TaSHI will carry out pilot projects in 5 selected countries
Follow our activities in webinars, on the EU Health Policy Platform in Health workforce projects cluster, register to our newsletter, follow us on Twitter
Some of the main results of TaSHI will be: A Guidebook of task shifting,
5 Case studies, Set of recommendations for task shifting actions
Stay updated about the latest news and activities of the TaSHI project.